Site Address:
215 - 2411 160th Street
Surrey, BC V3S0C8
Back to search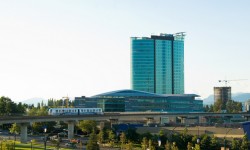 ---
Welcome message from site
PhysioLife is one of South Surrey and White Rock's leading physiotherapy and massage therapy clinics. Our main focus is to provide the highest level of treatment so our patients can achieve their health-related goals. This focus is evident from how we designed our clinics, to our modern equipment, to the effective hands-on approach of our therapists – everything is aimed at helping our client get better.
If you haven't been to our clinics, there's a good chance one of your neighbours, friends, or colleagues have. Our clients are of all ages and backgrounds: they are elite and recreational athletes; business executives and skilled tradesmen; students and retired seniors. Our therapists ensure all treatment programs utilize the latest research.
With two convenient locations - one in the new Grandview Corners shopping area in South Surrey, and one near Peace Arch Hospital in White Rock - PhysioLife is easily accessible by car or public transit. The local area showcases many trendy shops, restaurants, and recreational facilities. During the summer, we are minutes from White Rock beach. And if you're looking for cheaper gas, PhysioLife is within 10 minutes of the US border!
Site Details
Placement Category: 
Outpatient
Facility Type:
Private Practice
Patient population description:
PhysioLife Physiotherapy Clinic has seen patients as young as 8 weeks, and as old as 97 years! We treat patients with injuries related to activities of daily living, sports and recreation, motor vehicle accidents, work-related accidents, and pre/post-surgical. South Surrey and White Rock are very active communities, so we do tend to see lots of high-school athletes and weekend warriors. Even the senior population is quite active with tennis, lawn bowling, curling, walking, sailing, equestrian, and pickle ball.
Physiotherapist expertise on site (special interests, degrees, certificates, etc.):
The clinic owner has completed the Orthopaedic Division levels and achieved FCAMPT designation. She is also certified by the Acupuncture Foundation of Canada Institute, and is currently working on completing her Sport Certificate.
Other therapists are working through their orthopaedic levels and have nearly completed their acupuncture training. One therapist has some extra experience with vestibular rehabilitation.
These types of learning opportunities may be available at this site:
- Lengthy initial assessment times (60 minutes) and subsequent follow-up visits (30 minutes).
- Ability to do hands-on assessment and treatment under supervision.
- Large gym space with treadmill, bike, shuttle, cable machines, dumbbells, tubing, exercise balls, balance boards.
- Access to ultrasound, TENS, NMES, IFC, and mechanical traction machines.
- Depending on time of year, opportunities to learn in a sport setting (Senior Boys highschool football and Junior A hockey).
Possible Interprofessional opportunities at this site:
- Within the clinic - working with physiotherapists, registered massage therapists.
- Opportunities to meet with physicians, chiropractors, traditional chinese doctor, and pedorthist.
- If completing placement during football or hockey season, opportunity to work with coaches, athletic therapists, chiropractors, dentists, doctors.
---
For information on pre-placement requirements and orientation please refer to the specific health authority listing, found here.
If you need to update your current site profile please send an email with the updated information.