City/Town:
Prince George
Site Address:
Suite 410, Phoenix Medical Centre
2155 10th Avenue
Prince George, BC V2M 5J6
Back to search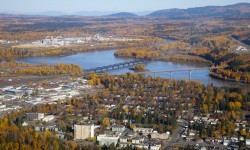 ---
Welcome message from site
Prince George is an amazing, central location in BC. Take advantage of all the outdoors has to offer. We've had students go skiing, dog sledding, hiking, and had get together BBQs. It all depends what the student groups are into! The weekends are your own...take full advantage. Visit tourism Prince George to look at our calander of events to see what you can take advantage of while you are here!
More interested in the arts? We have two theatres, a symphony, the Two Rivers Art gallery, Studio 2880, Art Space above Books and Company,and various dance studios with performaces. A foodie? Prince George has multiple organic shops, a farmers market, amazing bakeries, wine bars and a great variety of restaurants to explore.
Site Details
Placement Category: 
Outpatient
Facility Type:
Private Practice
Patient population description:
Mainly acute adult population, work site injuries, MVAs, some young athletes.
Physiotherapist expertise on site (special interests, degrees, certificates, etc.):
Manual Therapy, Acupuncture, Hydrotherapy, McKenzie Part C.
These types of learning opportunities may be available at this site:
Hands-on techniques, multiple opportunities for assessments of various dysfunctions, discharge planning, hydrotherapy shadowing and participation.
We also service Simon Fraser Lodge for 8 hours a week. For Level 3 students we have a mixed Orthopaedic Geriatric placement option.
Possible Interprofessional opportunities at this site:
Acupuncture, Hydrotherapy, possible Bowen shadowing, possible acupressure shadowing.
---
For information on pre-placement requirements and orientation please refer to the specific health authority listing, found here.
If you need to update your current site profile please send an email with the updated information.