Site Address:
2170 Mr. Newton Cross Road
Saanichton, BC V8M 2B2
Back to search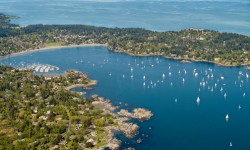 ---
Welcome message from site
Welcome to the Peninsula. Our area is a mixture of rural and urban, close to Victoria and all the benefits of a larger city. The nearest town is Sidney, close to the ferry and airport. We have a friendly, relaxed work site where all disciplines work together to the benefit of their clients.
Check out Sidney by the Sea and Victoria for more information on the local area.
Site Details
Placement Category: 
Community Health
,
Rehab
Facility Type:
Community Agency
,
Other
Patient population description:
Client base is mostly over age 65. Seniors who are home-bound who require services such as Home Safety Assessements, equipment suggestions, rehab post THR, TKR, and various other fractures. Also generalized deconditioning due to prolongued hospital stays. Paliative care clients.
Physiotherapist expertise on site (special interests, degrees, certificates, etc.):
Therapists have excellent knowledge about equipment needs, funding sources, how to utilize things in the home setting to accomplish clients goals. We do not have any special interests or degrees, but a broad base of knowledge across the whole spectrum of our profession.
These types of learning opportunities may be available at this site:
Students will have an opportunity to experience Physiotherapy in a totally different venue from Acute care or Clinic settings. The focus is totally on keeping clients safe and functional in their own homes. They will learn about equipment that is available to accomplish these goals and see how being out of hospital, in a familiar setting can be so beneficial to clients. They will have the opportunity to hone their interpersonal skills and assessement skills and writing skills. They will also learn to work with other community agencies.
Possible Interprofessional opportunities at this site:
We attempt to have each student spend some time with our other team members (Nursing, Case Management, Occupational Therapy and Nutrition) to better understand the role of the Community Care team. As well we visit our local hospital (Saanich Peninsula) OP and Inpatients areas.
---
For information on pre-placement requirements and orientation please refer to the specific health authority listing, found here.
If you need to update your current site profile please send an email with the updated information.