Site Address:
15521 Russell Avenue
White Rock, BC V4B 2R4
Back to search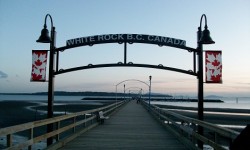 ---
Welcome message from site
White Rock is a lovely seaside community town, and Peace Arch Hospital provides a friendly atmosphere to work in. The hospital is supported greatly by it's Auxilliary and Foundation, and by the White Rock/South Surrey community.
Physiotherapists provide service to the following areas: Inpatient and Outpatient Surgical/Orthopaedics, Inpatient and Outpatient Rehab, x 2 Medical Units (including ICU and HAU -High Acuity Unit), ACE unit (Acute Care of the Elderly) and a PATH unit (Patient Assessment and Transition to Home).
Site Details
Placement Category: 
Acute
,
Chronic Disease Management
,
Community Health
,
Outpatient
,
Rehab
Facility Type:
Hospital
Patient population description:
Older Adult.
Physiotherapist expertise on site (special interests, degrees, certificates, etc.):
- Experience in all conditions affecting the geriatric population.
- General Rehab expertise in serial casting and taping.
- Treatment of Vertigo.
- Stroke Rehab.
- Orthopaedic conditions.
These types of learning opportunities may be available at this site:
- Interdisciplinary Discharge Planning Rounds.
- In-Services on new evidence-based practice, or new equipment demo by supplier, or staff reporting on a course or workshop, or Journal Club.
- Opportunity to watch a total joint arthroplasty surgery when placement is on Surg/Ortho.
- General Rehab Unit with its own gym. Patients can transition from inpatient rehab to either a home-based program or outpatient program through CCR (Coordinated Community Rehab) Placement could be combined between the inpatient and outpatient components.
- The PATH Unit is now under the HomeHealth Program, so the student placement could be combined between the inpatient and outpatient components.
Possible Interprofessional opportunities at this site:
Rehab services are provided in interdisciplinary teams on all the inpatient units and in Outpatient Rehab.
There are combined PT/OT/RA staff meetings held for general information sharing, educational opportunites and equipment in-services.
---
For information on pre-placement requirements and orientation please refer to the specific health authority listing, found here.
If you need to update your current site profile please send an email with the updated information.