Site Address:
126 - 15850 26 Avenue
Surrey, BC V3Z 2N6
Back to search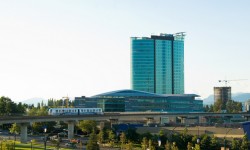 ---
Welcome message from site
Welcome to the Morgan Crossing Sports Medicine family. We are a family-owned medium size multidisciplinary clinic in the heart of South Surrey. We opened our doors in 2011 and have never looked back!
Site Details
Placement Category: 
Outpatient
Facility Type:
Private Practice
Patient population description:
Our patient population varies but we mainly see active individuals of all ages with MSK injuries who are very motivated to get back to their activity.
Physiotherapist expertise on site (special interests, degrees, certificates, etc.):
Our physiotherapists have IMS, Acupuncture, and K-tape certifications. We also have a shockwave machine.
These types of learning opportunities may be available at this site:
- Assessment and treatment techniques
- Manual therapy
- Referrals/Co-treating
- Exercise prescription
- Therapeutic Modalities
- Athletic Taping and bracing
Possible Interprofessional opportunities at this site:
We collaborate with our in-house Sport Chiropractic Fellow, a Chiropractor, RMTs and other physiotherapists, based on the strengths of each practitioner.
---
For information on pre-placement requirements and orientation please refer to the specific health authority listing, found here.
If you need to update your current site profile please send an email with the updated information.