Site Address:
104-1634 Harvey Avenue
Kelowna, British Columbia V1Y6 6G2
Back to search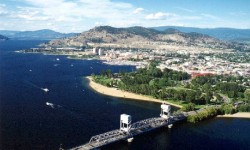 ---
Welcome message from site
Joan and Murray and Clarice at LifeMark Health would like to welcome any students who would like to get good experience with the above mentioned settings and enjoy what the Okanagan Valley has to offer, which is a plethora of outdoor activities no matter what time of year you are here and tons of wineries! Simply click on www.castanet.net and refer to information on what is going on in the Kelowna area.
Our facility has a large staff: Eight PTs, three OTs, three kinesiologists, two athletic therapists, one therapist assistant, one sports medicine physician, one psychologist, one clinical counsellor, two massage practitioners and numerous wonderful admin staff. We are a happy group and value having fun at work. We like to have students so that we can entice them to come back and work for us and are always happy to provide references for any of our former students.
Site Details
Placement Category: 
Outpatient
Facility Type:
Private Practice
Patient population description:
Our outpatient area is mainly adults but some adolescents as well. Conditions encountered are mainly orthopedic and vestibular client conditions.Our occupational rehab program is all adults and the most common condition treated is low back pain followed by shoulder and knee injuries.
Physiotherapist expertise on site (special interests, degrees, certificates, etc.):
Joan Russell, Clarice Bower and Murray Holmes are the therapists who take students and students will have two supervising therapists, one on outpatients and one on occupational rehab.
Clarice Bower has certification in the treatment of vestibular conditions from Atlanta, GA. Murray Holmes is certified to use acupuncture and IMS and has an interest, and considerable experience, with sports injuries. Joan Russell has her FCAMPT manual therapy qualification as well as the designation of a Certified Disability Management Professional.
These types of learning opportunities may be available at this site:
There is opportunity for experience with outpatient orthopaedic conditions and vestibular conditions. Also there is the opportunity to work in the occupational rehab setting in an OR1 program. In fact each placement is a combination placement of the two settings; three days per week in the occupational rehab program and two days per week in the outpatient setting.
Possible Interprofessional opportunities at this site:
In the occupational rehab setting there will be opportunity to work with kinesiologists and on outpatients with therapist assistants.
---
For information on pre-placement requirements and orientation please refer to the specific health authority listing, found here.
If you need to update your current site profile please send an email with the updated information.