Site Address:
#100 - 650 Trans Canada Highway
Salmon Arm, BC V1E 2S6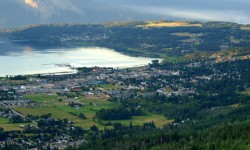 ---
Welcome message from site
Salmon Arm is an incredibly diverse small "city" with a wonderfully active community, whether skiing in the winter or enjoying the hot and beautiful summers. We have been providing Physiotherapy to this community for the past 10 years and have an amazing connection to all that the Shuswap has to offer.
We value a slower pace and an opportunity to connect with each client and provide exceptional care in a one on one environment. Our team of therapists each bring a wealth of experience and knowledge and help us provide amazing client/patient experiences.
Site Details
Placement Category: 
Facility Type:
Patient population description:
Small town rural population which includes anything and everything from weekend warriors to young athletes and aging populations. Salmon Arm has an amazing diversity and an amazing active population which provides a unique opportunity to have exposure to a huge array of orthopaedic, post surgical and acute care patients.
Physiotherapist expertise on site (special interests, degrees, certificates, etc.):
We currently have nine therapists on staff with a huge area of specialty. We have FCAMPT certified manual therapists, many IMS practitioners, a certified hand therapist, exercise gurus and therapists with a focus on balance and vertigo.
These types of learning opportunities may be available at this site:
We value one-on-one assessments and treatments and there is a huge and varied opportunity to learn from a team of very experienced manual and manipulative therapists.
There is an opportunity to observe and learn acupuncture and IMS therapy, manual therapy skills, manipulation, custom hand splinting, vertigo and general imbalance prescription as well as a great opportunity to perfect assessment skills, exercise prescription and patient education.
Possible Interprofessional opportunities at this site:
We have a very close working relationship with the local medical community and may be able to help facilitate other inter professional opportunities.
---
For information on pre-placement requirements and orientation please refer to the specific health authority listing, found here.
If you need to update your current site profile please send an email with the updated information.