Site Address:
105 4841 Delta Street
Delta, British Columbia V4K 2T9
Back to search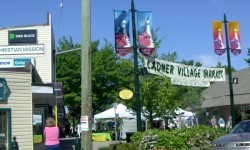 ---
Welcome message from site
We are a busy little clinic in the heart of Ladner Village and really enjoy providing quality service to our community. Employment opportunities are available for the correct candidate. Happy to provide mentorship or answer questions!
Site Details
Placement Category: 
Outpatient
Facility Type:
Private Practice
Patient population description:
Our clinic sees a large array of clientele and conditions. The majority of clients are private but we also accept WSBC and ICBC claims. Musculoskeletal injuries vary from acute ankle sprains to chronic rotator cuff issues and everything in between.
Physiotherapist expertise on site (special interests, degrees, certificates, etc.):
- Manual Therapy
- Functional Dry Needling/IMS
- Concussion Rehabilitation
- Vestibular Rehabilitation Certification (through Emory University)
- Pelvic Floor Rehabilitation (pre-/post-natal, incontinence, pelvic pain, pessaries, etc.)
- Chronic Pain
- Exercise Perscription
- Post-op
These types of learning opportunities may be available at this site:
At Ladner Village Physiotherapy you will have the opportunity to take a proper history, complete an orthopaedic assessment, develop a treatment plan based off of your findings, complete discharge planning, build home exercise programs and much more while under the correct level of supervision from your physiotherapist.
You will also have the opportunity to practice building and maintaining a busy caseload.
- Functional work assessments for WSBC clients as needed.
- Observation, education, and treatment opportunities for pelvic floor clients.
- Observation, education and treatment opportunities for vestibular clients.
Possible Interprofessional opportunities at this site:
Our clinic currently offers physiotherapy and registered massage therapy. We often consult with family doctors, specialists (gynecologists, ENTs, etc.), and other health practitioners via phone calls and letters.
---
For information on pre-placement requirements and orientation please refer to the specific health authority listing, found here.
If you need to update your current site profile please send an email with the updated information.