Site Address:
1200 Hospital Bench
Trail, BC V1R 1J9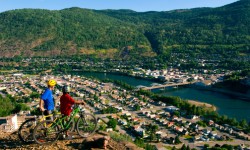 ---
Welcome message from site
Welcome to Trail, City of Champions. We are a close-knit group of therapists who work together to provide the best treatment for our patients. We are physically active and engaged in our communities.
Trail is located in south-central BC, a 15 minute drive from Rossland, home to Red Mountain Resort, a renowned destination for downhill skiing and world-class mountain biking. Trail has mild winters and hot summers which allows for many recreational opportunities year-round. Trail has a beautiful leisure centre that offers a full gym, 25m pool, hot tub and steam room.
Site Details
Placement Category: 
Facility Type:
Patient population description:
KBRH is the regional hospital for the West Kootenays. Our therapists service the emergency department, maternity and paediatric wards, surgical ward, medical ward and mental health ward. We also have two therapists that treat outpatient neuro and ortho patients.
Physiotherapist expertise on site (special interests, degrees, certificates, etc.):
As well as offering inpatient experiences, we also offer specialized neuro and ortho outpatient placements.
These types of learning opportunities may be available at this site:
Weekly physician rounds, monthly PT education rounds, Telehealth and webinars.
Possible Interprofessional opportunities at this site:
Shadow OT, PT, SLP, social work, dietary, respiratoy, diagnositic imaging. Attend relevant surgeries.Daily interdisciplinary rounds.
---
For information on pre-placement requirements and orientation please refer to the specific health authority listing, found here.
If you need to update your current site profile please send an email with the updated information.