Site Address:
2268 Pandosy Street
Kelowna, BC V1Z 2R1
Back to search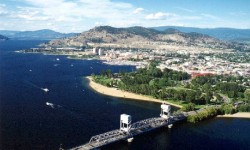 ---
Welcome message from site
Kelowna is located in the heart of the beautiful Okanagan valley. This means that we have the best weather in Canada! We are less than an hour's drive to Big White Ski resort if you enjoy snow. During the summer, you only have to walk across the street to dip in Okanagan Lake. It is definitely one of the most popular cities in the Okanagan!
Our Physio Department employs approximately 60 PTs.
Site Details
Placement Category: 
Acute
,
Outpatient
,
Rehab
Facility Type:
Hospital
Patient population description:
1. Outpatient Ortho: Arthroplasties, post op ortho, fractures, amputees,hospital discharges.
2. Inpatient Rehab: Neuro (strokes, head injuries), complex ortho, amputees.
3. Outpatient Neuro: Neuro (strokes, head injuries).
4. Acute Med/Surg: Inpatient ortho, medicial, surgical, cardio resp, cardiac surgery, ICU.
5. Geriatric: Neuro, ortho, complex geriatric.
6. Occupational Rehab: WCB and ICBC clients in a Return to Work program.
7. Hand Therapy: Hand injuries, post op hand surgery.
Physiotherapist expertise on site (special interests, degrees, certificates, etc.):
Amputee rehab
Neuro Rehab
Interdisciplinary Occ Rehab Progam
These types of learning opportunities may be available at this site:
Most placement opportunties involve interaction with many other professions.
Possible Interprofessional opportunities at this site:
Occ Rehab Progam involves PT, OT, Psyc, MD in a Return to Work program, primarily serving third party payors such as WCB and ICBC.
The KGH Inpatient Rehab is the largest Rehab ward outside the Lower Mainland. Patients are treated in a team approach (PT, OT, Psyc, MD , etc.).
---
For information on pre-placement requirements and orientation please refer to the specific health authority listing, found here.
If you need to update your current site profile please send an email with the updated information.