Site Address:
850 10th Avenue
Invermere, BC V0A 1K0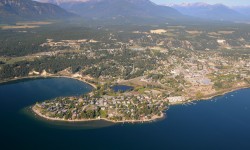 ---
Welcome message from site
Come to beautiful Invermere to learn in an amazing setting, with a compassionate health care team! Use the time afterwards to play in the outdoors. The area hosts all types of outdoor activities such as mounatin biking, paddling, skiing, snowboarding and hiking.
Site Details
Placement Category: 
Facility Type:
Patient population description:
The Invermere & District Hospital is a Level 1 Community Hospital in the East Kootenay health service area. The hospital offers services including acute care, labratory, and 24-hour emergency.
Patient population includes all ages, injuries, illnesses and conditions. Those requiring surgery or a higher level of care are sent to Cranbrook, Calgary or Kelowna.
Attached to the hospital is a Long-term Care facility called Columbia House.
Physiotherapist expertise on site (special interests, degrees, certificates, etc.):
The Physiotherapy team is involved with a variety of patients as indicated by the patient population. Special intetrests include sports injuries, wounds, geriatrics and spinal cord injury.
These types of learning opportunities may be available at this site:
Experience with a very wide and interesting patient population. Constant learning as a result of this variety.
Combined role of acute care and residential care physiotherapy.
Possible Interprofessional opportunities at this site:
Working in a close multidisciplinary team made up of physiotherapists, a rehabilitation assistant, doctors, nurses, dietician, an occupational therapist and care aides.
---
For information on pre-placement requirements and orientation please refer to the specific health authority listing, found here.
If you need to update your current site profile please send an email with the updated information.