City/Town:
Prince George
Site Address:
306 - 1811 Victoria Street
Prince George, BC V2L 2L6
Back to search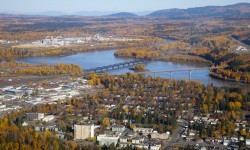 ---
Welcome message from site
I am looking forward to hosting students at my clinic. I work a couple of days out of a multi-disciplinary office, Northern Centre for Integrative Medicine, and I provide home visits for patients that can not come to the clinic on the other days. I can accommodate one student part-time, and would work with the department to plan a shared placement with one of the other placement locations in the city.
Prince George offers a lot of opportunities for people to explore the beautiful outdoors. The city is also known for it's volunteer spirit and friendly people.
Site Details
Placement Category: 
Outpatient
Facility Type:
Private Practice
Patient population description:
Most of the patient population consists of lymphedema, cancer, and chronic pain patients. Also see patients with neurologic, orthopedic, or vestibular conditions.
Physiotherapist expertise on site (special interests, degrees, certificates, etc.):
Certified Lymphedema Therapist (Vodder)
Pain Management Certification (U of A)
Interest in cancer rehabilitation
These types of learning opportunities may be available at this site:
There will be opportunities to learn by discussing patient cases, learning about and applying aspects of assessment and treatment for lymphedema, cancer, and chronic pain management.
[Some services (e.g., manual lymphatic drainage, measuring limb circumferences) have to be provided by practitioner as they require specialized training, or to ensure intra-rater reliability.]
Possible Interprofessional opportunities at this site:
Opportunity to observe or speak with naturopaths, counsellor, or nurses in our clinic.
---
For information on pre-placement requirements and orientation please refer to the specific health authority listing, found here.
If you need to update your current site profile please send an email with the updated information.