City/Town:
Fort St. John
Site Address:
10031 100 St
Fort St. John, BC V1J 3Y5
Back to search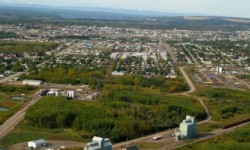 ---
Welcome message from site
We welcome students who are keen to learn and are willing to bring their own experience and knowledge to improve the team. You will get plenty of mentorship, see a wide variety of patients, and become comfortable establishing/carrying out treatment plans. We will discuss current evidence-based practice, variable options in treatment, challenge ideas, and try to be the best physiotherapists for our patients.
Site Details
Placement Category: 
Outpatient
Facility Type:
Private Practice
Patient population description:
Rural practice, which means a smattering of everything, however, outpatient orthopaedic is the primary patient population. We see plenty of WSBC injuries, post-surgical patients, sports injuries, acute and chronic injuries, and vestibular conditions.
We have a full-time exercise physiologist who does Chronic Disease Management, group, and individual work.
Physiotherapist expertise on site (special interests, degrees, certificates, etc.):
Doctor of Physical Therapy with 10 years experience, six years with students. Advanced practice training in pelvic health. Generally, modalities are used sparingly, exercise extensively. Manual therapy and Functional Dry Needling are used as needed. Patient education, particularly surrounding pain, is part of treatment for every patient.
These types of learning opportunities may be available at this site:
Journal review. Possibly some internet courses and distance education.
Possible Interprofessional opportunities at this site:
Possible opportunities include collaborating with a Mental Health Counselor, working with chronic disease management and cardiac rehab, spending a day in acute care.
---
For information on pre-placement requirements and orientation please refer to the specific health authority listing, found here.
If you need to update your current site profile please send an email with the updated information.