City/Town:
Campbell River
Site Address:
91 Erickson Road
Campbell River, BC V9W 1S6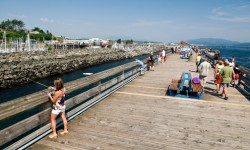 ---
Welcome message from site
Hello! We are very excited to have students at Foundation Rehab because we understand that these placements will shape your future practice as they have shaped ours!
At Foundation we believe in spending time with clients to develop personalized care plans that include evidence-based education and active rehab strategies. Um, did we mention we have a 4200 sq foot building with a full gym including turf track and several Olympic weight lifting setups, all a block from the ocean?
If you are into the outdoors, Campbell River has it all, hiking, biking (road and mountain), kayaking, canoeing, skiing, surfing (YUP!), sailing, fishing, climbing..... the list is endless.
Site Details
Placement Category: 
Facility Type:
Patient population description:
We have a variety of clients of all ages and abilities. We do attract a large athletic population and have a reputation as being a great choice for high functioning athletes interested in optimizing their rehab/performance.
Physiotherapist expertise on site (special interests, degrees, certificates, etc.):
Campbell River is a mid-size town. We treat a large variety of of conditions and as such our team has a diverse knowledge base. Our practitioners are highly evidence-based and as such rely on active treatments as well as education in pain science and rapport-building.
In addition, other areas of expertise include: Pelvic Floor Physiotherapy, Vestibular Rehab/Concussion Management, Manual Therapy, IMS, Return to Sport.
These types of learning opportunities may be available at this site:
A variety of learning opportunities will be incorporated into the placement, including time spent with other physiotherapists and even opportunities with other health care practitioners.
Possible Interprofessional opportunities at this site:
Chiropractor, Massage Therapist, Kinesiologist.
---
For information on pre-placement requirements and orientation please refer to the specific health authority listing, found here.
If you need to update your current site profile please send an email with the updated information.