City/Town:
Fort St. John
Site Address:
8407 112th Avenue
Fort St. John, BC V1J 0J5
Back to search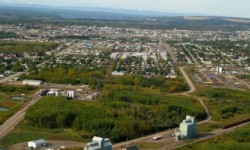 ---
Welcome message from site
The Fort St. John Hospital was constructed in 2012. It's a nice building. Students that have been here looking for fun have really enjoyed themselves. The truth is that it's a small (relative to Vancouver) northern city, it is cold in the winter (but bright and sunny), nice in the summer, and there is actually quite a bit to offer. Outdoor recreation is a big part of life, but there are also plenty of venues that host live music and other events throughout the year.
One nice thing about small communities is that the patient load is quite varied. There are no specialists, so you must become adept at dealing with all avenues of physiotherapy.
Site Details
Placement Category: 
Acute
,
Chronic Disease Management
Facility Type:
Hospital
Patient population description:
This acute care hospital services a large geographic area in Northern BC. Students can expect to see post-op total joint arthroplasties, post-op bowel and general surgeries, CVA, plenty of chest physio, dementia, and general debility. Serious injuries, such as spinal cord injury, and medical issues, such as unstable cardiac or vented patients, are flown to higher level trauma hospitals, but students will work with these patients before they leave and upon return.
Students will occasionally see patients in the Emergency Department and often in Intensive Care.
The patients are typically geriatric, as are most acute care hospitals, but being the only hospital in a large area means that all patient types are seen here.
Physiotherapist expertise on site (special interests, degrees, certificates, etc.):
Two physiotherapists - one full time, one part-time. Both physiotherapists hold DPT degrees. Our full-time physio was educated in China in general medicine with specialization in physical medicine, later attaining his DPT in North America. Our part-time physiotherapist held a CSCS designation and also works at a private clinic, the Fort St. John Physiotherapy Clinic. A placement with this physio will involve work in both settings.
These types of learning opportunities may be available at this site:
Potential opportunities include a day or two at private practice outpatient physio, cardiac rehabilitation, long-term care, home assessments, interdisciplinary meetings, general surgery observation.
Possible Interprofessional opportunities at this site:
Students will have the opportunity to work with an occupational therapist, social worker, dietitian, nurses, and physicians.
---
For information on pre-placement requirements and orientation please refer to the specific health authority listing, found here.
If you need to update your current site profile please send an email with the updated information.