Site Address:
BC Mental Health & Substance Use Services
Forensic Psychiatric Hospital
70 Colony Farm Road
Coquitlam, BC V3C 5X9
Back to search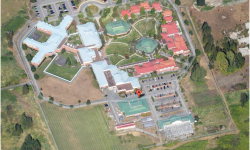 ---
Welcome message from site
Welcome to Forensic Psychiatric Hospital (FPH). We are a 190-bed in-patient facility providing services to people with mental health disorders who are in conflict with the law. Services provided at the hospital are complimented by out-patient services provided through six regional forensic psychiatric clinics located across BC. We hope you enjoy your placement at FPH and look forward to seeing you at our beautiful campus located in Coquitlam.
Site Details
Placement Category: 
Chronic Disease Management
Facility Type:
Forensic Psychiatry
Patient population description:
The secure Forensic Psychiatric Hospital serves individuals referred by the Courts for treatment and assessment. It also provides treatment and support for those individuals who are deemed to require a secure inpatient facility due to their risk of harm to self and/or others. The facility consists of nine clinical units (five secure, three closed and one open unit). The Forensic Psychiatric Hospital is a designated mental health facility under the Mental Health Act, which provides for involuntary admissions for treatment purposes.
Physiotherapist expertise on site (special interests, degrees, certificates, etc.):
These types of learning opportunities may be available at this site:
Possible Interprofessional opportunities at this site:
---
For information on pre-placement requirements and orientation please refer to the specific health authority listing, found here.
If you need to update your current site profile please send an email with the updated information.