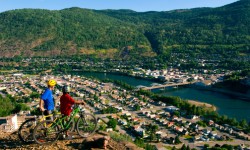 ---
Welcome message from site
Hello and welcome to Evergreen Sports and Physical Therapy! We are a Private Physiotherapy clinic located in Trail, British Columbia. Evergreen has been providing Physiotherapy services in the West Kootenay since 1996.
We believe that during rehabilitation, the patient should be educated by their therapist in order to be able to maintain and improve mobility long after our work ends. Our four Physiotherapists and one Massage Therapist/Kinesiologist have successfully worked with all types of injuries and work on patients of any age.
Our clinic is always looking for enthusiastic, client-centered team members and we enjoy sharing our knowledge with UBC students. We look forward to meeting you!
Site Details
Placement Category: 
Outpatient
Facility Type:
Private Practice
Patient population description:
Sports injury patients
WCB
ICBC
Other insurances companies
Private patients
Physiotherapist expertise on site (special interests, degrees, certificates, etc.):
1. Physiotherapy assessment and treatment
2. Manual Therapy
3. Electrotherapy
4. Vestibular Rehabilitation
5. Individualized exercise programs
6. Custom and Non-Custom Knee Bracing
7. Custom and customized orthotics
8. Custom fracture casts (wrist and thumb)
9. Taping/Splinting
10. Home Visits
11. Consulting services
12. Acupuncture
13. Massage Therapy
14. Kinesiology
15. Ultrasound Therapy
These types of learning opportunities may be available at this site:
Students have the opportunity to work alongside physiotherapists in a relaxed and friendly environment. Depending on their level they will work alongside a physiotherapist or treat clients independently. Expect a lot of hands on experiences and individual learning opportunities.
Possible Interprofessional opportunities at this site:
Massage Therapist/Kinesiologist.
---
For information on pre-placement requirements and orientation please refer to the specific health authority listing, found here.
If you need to update your current site profile please send an email with the updated information.