Site Address:
13 24th Avenue North
Cranbrook, BC V1C 3H9
Back to search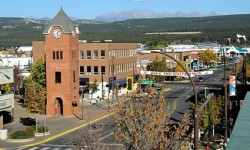 ---
Welcome message from site
Welcome to East Kootenay Regional Hospital and thank you for considering this breathtaking geographical area!
Imagine finishing your workday and stepping out into a natural playground for all of your favourite recreational passions. We are lucky to be able to play year round; downhill and cross country skiing, mountain biking, hiking, kayaking, swimming and more. We also have a local community forest with a series of trails at your doorstep!
We have had several students in the past and they have always found our staff to be friendly, informative and fun to work with!
Hope to see you soon!
Site Details
Placement Category: 
Community Health
Facility Type:
Hospital
Patient population description:
This is a site with approximately 60 to 70 beds. We service a medical floor, surgical floor, 4-bed ICU and emergency department. The patient population is mixed, although we do service an elderly population. As we are a regional center, we accept patients from other sites such as Golden, Invermere, Fernie, Kimberley and Creston.
Physiotherapist expertise on site (special interests, degrees, certificates, etc.):
All of the physiotherapists are generalists, as we have to have a knowledge base to cover each area.
Our hospital rotates physiotherapists between floors.
These types of learning opportunities may be available at this site:
We often attend IHA webinars and other Live Meetings related to topics in Residential Care, Community Care, Falls Prevention, Early ICU mobilization, etc. Students would have the opportunity to spend time shadowing OT, SLP and Respiratory Therapy if there is interest.
Previous students have had the opportunity to sit in on THR and TKR surgeries. There is the opportunity to follow a community therapist, a pediatric community therapist, and a therapist that works on a Convalescent Unit.
We do like our students to do a presentation on a topic to update our group on the evidence.
Possible Interprofessional opportunities at this site:
See above.
---
For information on pre-placement requirements and orientation please refer to the specific health authority listing, found here.
If you need to update your current site profile please send an email with the updated information.