Site Address:
475 Guildford Way
Port Moody, BC V3H 3W9
Back to search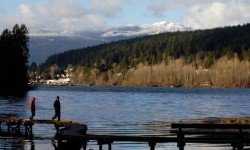 ---
Welcome message from site
Eagle Ridge Hospital is a 175-bed hospital located in the city of Port Moody, a small community with an impressive natural setting. We are located 40 minutes east of Vancouver at the end of the Burrard Inlet.
Our staff of 16 physiotherapists provide a variety of inpatient and outpatient services (orthopaedics, neuro, specialized rehabilitation, amputees, pediatrics, and geriatrics). We strive to serve our patients with a collaborative team-oriented approach. We support ongoing education for all our staff, hold regular inservices, and participate in professional practice.
Most of our staff live in the Tri-Cities area and take pride in supporting our communities. We participate in local fundraisers such as the Hike for Hospice for the Crossroads Hospice Society or the Big Bike Ride for the Heart & Stroke Foundation. We also enjoy socializing together outside of work at nearby restaurants, hiking the local trails, or kayaking in the Burrard Inlet.
Site Details
Placement Category: 
Acute
,
Chronic Disease Management
,
Community Health
,
Outpatient
,
Rehab
Facility Type:
Hospital
Patient population description:
ERH serves the residents of the Tri-Cities (Port Moody, Coquitlam, Port Coquitlam). The majority of patients seen are adults who are recovering from medical issues or surgical procedures.
ERH also has two specialized Rehab units:
1. High Intensity Rehab Unit (1 of only 2 such units in the Fraser Health Authority), where the focus is on daily 1:1 rehab for the neuro population (e.g., CVA, ABI, SCI, GBS) and amputees for prosthetic training.
2. General Rehab Unit (1 of 6 units in the Fraser Health Authority), where the patients receive a combination of 1:1 and group rehab. The patient population is a mix of orthopedics, geriatrics, and neuro.
Physiotherapist expertise on site (special interests, degrees, certificates, etc.):
- Outpatient ortho
- Outpatient neuro
- Outpatient pediatrics
- Outpatient hand therapy
- Inpatient medical
- Inpatient surgical/ortho
- Inpatient neuro (high intensity and general rehab units)
- PATH
These types of learning opportunities may be available at this site:
- Patient assessments
- Developing treatment plans
- Goal setting
- Provision of ongoing treatment
- Discharge planning
- Caseload prioritization
- Iinterdisciplinary communication
- Charting
- Inservice and education
Possible Interprofessional opportunities at this site:
- Rounds
- Family conferences
- Option to spend time with other disciplines
- Professional practice
---
For information on pre-placement requirements and orientation please refer to the specific health authority listing, found here.
If you need to update your current site profile please send an email with the updated information.