Site Address:
Unit 103 - 399 Tyee Road
Victoria, BC V9A 0A8
Back to search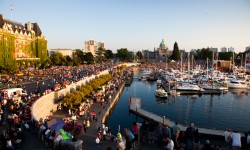 ---
Welcome message from site
Hey there and welcome to Dockside Physiotherapy!
We are a collaborative and energetic team of physiotherapists. We are a NOT multi-disciplinary clinic as we believe in working with other practitioners and businesses in the community so we can best match particular therapists and their services to our clients' needs.
We are in the modern and up-and-coming neighborhood of Dockside Green in Vic West, right on the Gorge Waterway and Lockside Biking Trail. We are a short walk to the downtown core of Victoria, and next to an amazing coffee shop and bakery. We also have two paddleboards in-clinic that we take out on the waterway when we have a free moment, as well as a clinic dog. So... I guess this makes us kind of cool, right?
We look forward to learning and working together!
Cheers,
Team Dockside
Site Details
Placement Category: 
Outpatient
Facility Type:
Private Practice
Patient population description:
Mainly an MSK caseload of all ages, as well as chronic pain and concussion/vestibular clients.
Physiotherapist expertise on site (special interests, degrees, certificates, etc.):
We have five Physiotherapists with a variety of interests and expertise, including:
● Advanced (FCAMPT) and Intermediate (Level 3) Therapists
● Certified IMS/Functional Dry Needling Practitioners
● Certified Pelvic Health Therapists
● Medical Acupuncture Practitioners
● Vestibular and Concussion Rehab
● Chronic Pain/Injury Recovery
● Bike Fitting
These types of learning opportunities may be available at this site:
Students will have the opportunity to learn from manual therapists who are currently progressing through the Ortho Div levels, as well as those who have advanced training in pelvic floor therapy, pre-/postnatal care, dry needling, concussion/vestibular therapy, bike fitting, and pain science.
We will challenge students and have them think critically about their assessment structure, assessment findings, treatment selection, and plan of care, as well as help them develop an overall "patient picture."
Possible Interprofessional opportunities at this site:
None.
---
For information on pre-placement requirements and orientation please refer to the specific health authority listing, found here.
If you need to update your current site profile please send an email with the updated information.