Site Address:
Unit 230 - 5620 152nd Street
Surrey, BC V3S 3K2
Back to search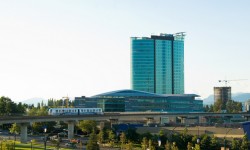 ---
Welcome message from site
We hope you will join our team at Coastal for a unique hand therapy learning experience. This is an essential practical experience for any therapist wanting to pursue a post-graduate career in hand therapy. It's also a great way to expand your knowledge in a practice area that is limited in your training at university and see a unique approach to upper extremity care.
Site Details
Placement Category: 
Outpatient
Facility Type:
Private Practice
Patient population description:
Primarily adult patient population. Acute upper extremity injuries and post-operative care. May also include some upper extremity repetitive strain and/or tendinopathy diagnoses.
Physiotherapist expertise on site (special interests, degrees, certificates, etc.):
Two physiotherapists on site: 1 senior therapist with over 17 years experience; GunnIMS certification, RCAMT manual therapy background and Certified Hand Therapist (CHT). The other an experienced physiotherapist training to be a certified hand therapist.
These types of learning opportunities may be available at this site:
The placement will be a 1:1 learning environment. The caseload of patients will be shared with the supervisor. There will be lots of direct supervision.
In addition, there will be an opportunity to spend a few mornings (hand surgical clinic) with a hand surgeon who is closely affiliated with our clinic.
Possible Interprofessional opportunities at this site:
You will work along with OT CHT colleagues as hand therapy is a shared discipline. It will provide an interesting perspective to see how a different therapy discipline approaches similar patients.
---
For information on pre-placement requirements and orientation please refer to the specific health authority listing, found here.
If you need to update your current site profile please send an email with the updated information.