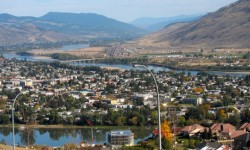 ---
Welcome message from site
Hello! We are all physiotherapists who love our profession and would like to share the expertise and knowledge with you. We work with children and their families for short times, longer times, or sometimes from birth until they are graduated. These children might need a lot of therapy, other children could have more equipment needs, or both. Children may have neurological or orthopedic problems. Working with children means a lot of "out of the box thinking" in order to make things work, and that is also very exciting. When we see a child, we sometimes just meet the family, but sometimes there are several teams involved to help the child discover the world through movement.
Kamloops is a great community, with lots of room for activities like: cross-country and downhill skiing, canoeing, kayaking, hiking, biking, swimming and much more as we have many lakes. Sun Peaks is less than an hour away. We have many restaurants, some theaters and Thompson River University is right across the street from us!
Site Details
Placement Category: 
Rehab
Facility Type:
Child Development Centre
Patient population description:
Children 0 - 19 years of age.
Physiotherapist expertise on site (special interests, degrees, certificates, etc.):
At this time we have four permanent physiotherapists and one casual physiotherapist, all with a wide variety of experience and expertise.
These types of learning opportunities may be available at this site:
Team work, communication, setting goals and objective are the great learning opportunities. We have a variety of backgrounds, we all have skills to assess children of all ages using a standard assessment, using informal assessments, working with the children's parents and caregivers, setting goals and objectives to address the child and family's needs.
Possible Interprofessional opportunities at this site:
Learning opportunities include working in the community: In private homes, schools, preschool, daycares, swimming pools, etc.
Serving our families we often work together with an Occupational Therapist, Speech Language Pathologist, Supported Child Development Consultant, Infant Development Program and with the Behaviour Team.
Our centre is family-oriented and goals and objectives are set on a regular basis. Focus could be Early intervention 0-school age and/or school age.
We are in close contact with larger facilities like B.C Children's Hospital and Sunny Hill Health Centre.
---
For information on pre-placement requirements and orientation please refer to the specific health authority listing, found here.
If you need to update your current site profile please send an email with the updated information.