City/Town:
Campbell RIver
Site Address:
2315 South Island Hwy
Campbell River, British Columbia V9W 1C4
Back to search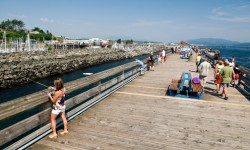 ---
Welcome message from site
Hello Students!
There is no better way to enhance your skills, both as a physiotherapist and as a mountain biker, skier, kayaker, hiker or runner! Enjoy a relaxed, professional environment at our clinics and then enjoy the many recreational activities that surround us on all sides!
Site Details
Placement Category: 
Outpatient
Facility Type:
Private Practice
Patient population description:
All ages. Majority are orthopaedic.
Physiotherapist expertise on site (special interests, degrees, certificates, etc.):
Part B Therapists, certified IMS, women's health/pelvic pain, and vestibular therapists. Great location to work on your ortho skills on a variety of patient ages and levels.
These types of learning opportunities may be available at this site:
Rehabilitation Programs, ergonomic assessments, Exercise Therapy and more!
Possible Interprofessional opportunities at this site:
We employ Occupational Therapists, consulting Physicians, Psychologists and Counsellors.
Our clinic is housed alongside an orthopaedic surgeons office with shared administration/reception.
---
For information on pre-placement requirements and orientation please refer to the specific health authority listing, found here.
If you need to update your current site profile please send an email with the updated information.