Site Address:
2nd Floor, 1623 McKenzie Avenue
Victoria, BC V8N 1A6
Back to search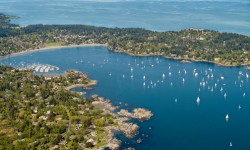 ---
Welcome message from site
Welcome to CBI Health Centre - Saanich. We have been providing physiotherapy and rehabilitation services to the Victoria area since 1994. We offer acute physiotherapy, acupuncture, vestibular therapy, and multi-disciplinary rehabilitation programs with access to physiotherapy, exercise therapy and occupational therapy.
CBI Health Group is one of Canada's premier providers of quality Heatlh Care and Rehabilitation Services. Since 1974, CBI has pioneered the development of active heatlh care and rehabilitation solutions and continues to expand both the scope of our services and locations of service delivery. Our network of CBI Health Centres, Sports Injury Clinics, OT Services and other affiliated clinics has grown to over 150 strategic locations from coast to coast. CBI Health Group has been recognized as a 50 Best Managed Company for five consecutive years and was recently selected as one of Canada's 10 Most Admired Corporate Cultures.
Saanich is a neighbourhood located in Victoria, BC, on the southern tip of Vancouver Island. It is a very attractive city, famous for its gardens and temperate climate. We love to play! Come sailing, hiking, kayaking, biking, golfing - you can do it all here. There is also a vibrant arts community offering a range of activities from poetry readings to theatrical productions to music and film festivals.
Site Details
Placement Category: 
Outpatient
Facility Type:
Private Practice
Patient population description:
CBI Saanich offers both acute physiotherapy and multi-disciplinary programs, which are funded through WorkSafe BC, the Insurance Corporation of BC, and LTD companies. Our clients range in age from children to seniors and may be treated for workplace or motor vehicle accident injuries, pre- and post-surgical needs, illness or chronic disease, age-related conditions, or sport injuries.
Physiotherapist expertise on site (special interests, degrees, certificates, etc.):
Our physiotherapists have expertise in orthopaedics, the treatment of musculo-skeletal conditions through manual therapy, mechanical assessment and treatment, and acupuncture. Special interests include neurological and vestibular injuries, as well as medical-legal evaluations and functional capacity evaluations.
These types of learning opportunities may be available at this site:
At CBI Saanich you will have the opportunity to experience private and program orthopaedic care ranging from the very acute to the chronic case. The majority of our case load is comprised of treating necks, backs and shoulders. We have therapists with advanced training who can provide you with exposure to manual therapy, vestibular assessment and treatment, core conditioning, return to activity progression (sports and work), advanced protocols for tendinopathy treatment and post spinal, shoulder and knee surgical rehabilitation.
Possible Interprofessional opportunities at this site:
CBI Saanich has Physiotherapists, Kinesiologists, Occupational Therapists, Psychologists and Sports Medical Doctors. Each profession has different roles within the clinic and you will have the opportunity to interact and collaborate with each of these.
---
For information on pre-placement requirements and orientation please refer to the specific health authority listing, found here.
If you need to update your current site profile please send an email with the updated information.