City/Town:
Williams Lake
Site Address:
Main Floor, Cariboo Memorial Hospital
517 North 6th Avenue
Williams Lake, BC V2G 2G8
Back to search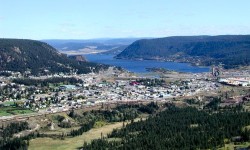 ---
Welcome message from site
We welcome students in our department and will work hard to make you feel welcome and to give you the experiences that you are looking for.
We feel that Level 1 and 2 students will receive great experience and learning opportunities. We offer a broad rural, small town experience that can really help you to consolidate the knowledge you have learned so far and to building on all of your skills.
Hopefully, we'll see you and if not, we wish you well in your studies!!
Site Details
Placement Category: 
Community Health
Facility Type:
Hospital
Patient population description:
Williams Lake is a town with a population of about 12,000 and supports an area population of close to 30,000. The main industries are forestry, mining and ranching. The people here are very tough and the pioneering attitude is alive and strong. It makes for very interesting work that requires us to be innovative and think outside the box.
Williams Lake is not a destination for the avid shopper, but definitely is for the outdoor enthusiast. We have great opportunities for mountain biking, hiking, riding, fishing, cross country skiing, water skiing, canoeing and all other water activities. We have a Recreation Centre with pool and gym area.
Physiotherapist expertise on site (special interests, degrees, certificates, etc.):
We have three PTs who have many years' experience. We all have different areas of interest and expertise as well as great general knowledge. One PT is a Bobath trained pediatric therapist, one PT is an FCAMPT (Part B manual therapist) with a Master's degree in Clinical Science in Manipulative Therapy, and one therapist has worked for many years in the area of respiratory physiotherapy.
These types of learning opportunities may be available at this site:
What we offer very well here is a basic placement covering many different areas, both clinical and worksite. You will come away with a great appreciation of most of the areas where public practice PTs work, including working in a small, but very active acute care hospital, some outpatients, community home visits, convalescent care and residential care. We see many post op hip and knee replacement patients, people with strokes, ABIs, multi-trauma and general medical conditions, including the frail elderly.
You will have the opportunity to practice and gain confidence in your patient handling skills, transfers, mechanical lifts, patient interviews, taking histories, hip and knee assessments and mobility assessments.
You may also have the opportunity to see some general surgery and obstetrics care/delivery.
Possible Interprofessional opportunities at this site:
You will get to work with a great team of professionals. In the Rehab Department we have community OTs and RTs and a Rehab Assistant. We work closely with Home Care Nurses, Long Term Care Case Managers, Health Services for Community Living, Acute Care Nurses and an excellent Discharge Planning team.
If you wish, we can arrange for time to be spent with the School District Therapist, and in private practice.
---
For information on pre-placement requirements and orientation please refer to the specific health authority listing, found here.
If you need to update your current site profile please send an email with the updated information.