Site Address:
#210 - 7525 King George Blvd.
Surrey, BC V3W 5A8
Back to search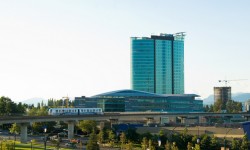 ---
Welcome message from site
For over 20 years, Back in Motion Rehab Inc. (Back in Motion) has been dedicated to helping people overcome barriers and reach their full employment potential. We deliver flexible, accessible interdisciplinary rehabilitation, disability management and employment services that recognize the uniqueness of each person. With a staff of over 250 dedicated, enthusiastic people, Back in Motion serves ten communities across Metro Vancouver. We are known for our creative solutions and exceptional results. Our credo is Helping People Work. Helping People Live.
Back in Motion is a progressive rehabilitation, disability prevention, and employment solutions company at the forefront of our field. Our corporate culture is one of excellence, mutual respect, integrity, teamwork, and commitment to people. We have a dynamic team, assist staff members to achieve their vocational and educational goals, and provide training and mentorship. We are a growth-oriented company, and offer flexible working conditions, and an environment for staff members to develop and grow.
Back in Motion has received recognition as an excellent workplace (Great Place to Work Institute Canada 2006-2008, including being named the #1 workplace in Canada in 2007; Psychologically Healthy Workplace Award 2009; Richmond News Profile of Excellence 2013; and as one of Canada's Best Small and Medium Employers in Canada (Aon Hewitt 2015 & 2016).
Site Details
Placement Category: 
Outpatient
Facility Type:
Private Practice
Patient population description:
Note: The clinical focus for this Back in Motion REHAB location is on Head Injury assessment and treatment.
Head Injury Assessment and Treatment Services (HIATS) provide assessments and treatment for Injured Workers with suspected or diagnosed brain injury as the result of a workplace injury. The HIATS program focuses on early intervention and an interdisciplinary approach. The treatment team includes Neuropsychologists, Physicians, Occupational Therapists, Physical Therapists, and Kinesiologists.
Assessment, rehabilitation, and return to work planning and support are provided, to help individuals return to work.
Physiotherapist expertise on site (special interests, degrees, certificates, etc.):
• Acquired brain injury
• Concussion
• Vestibular Rehabilitation
• Chronic Pain
• Manual Therapy
• Mulligan Method
• Acupuncture
• McKenzie Method
These types of learning opportunities may be available at this site:
Opportunities are available for students to shadow clinicians throughout the Back in Motion network of clinics. Students may choose to shadow PT's in the Head Injury Program, Private Practice, Occupational Rehabilitation Program, Medical Assessment Program, Mental Health Return to Work Program and Occupational Trauma Program.
Possible Interprofessional opportunities at this site:
There is a strong interdisciplinary team in the Surrey clinic. Students will have the opportunity to work with Occupational Therapists, Kinesiologists, Psychologists, Counsellors, Neuropsychologists, Psychometrists and Physicians.
---
For information on pre-placement requirements and orientation please refer to the specific health authority listing, found here.
If you need to update your current site profile please send an email with the updated information.