City/Town:
Campbell River
Site Address:
2-2380 South Island Highway
Campbell River, BC V9W1C3
Back to search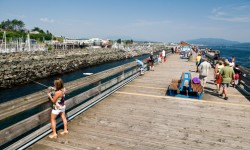 ---
Welcome message from site
Thank you for considering a placement at Active Living Physiotherapy. Your placement will be shared between two physiotherapists, giving you the opportunity to see some variety of clinical skill sets.
Our clinic was founded and operated by a physiotherapist. We have five physios on staff now, all part-time, as we believe in work-life balance. Campbell River has so much to offer: skiing in the winter at Mount Washington, and year-round hiking, water sports (lake and ocean), mountain biking, running, you name it! Trails are in town. Our clinic is across the street from the ocean and we enjoy the view everyday.
Time, quality and expertise is what we are known for and our clinic has the best reputation in town. Potential for future employment for the right candidate.
Site Details
Placement Category: 
Outpatient
Facility Type:
Private Practice
Patient population description:
Mixed caseload from children to elderly, athletes and sedentary. Predominantly adult MSK. All private pay; no WSBC, some ICBC. All appointments are one-on-one (no overlap of clients) and 30 or 60 min appointments.
Physiotherapist expertise on site (special interests, degrees, certificates, etc.):
Manual and manipulative therapy
Functional Dry Needling
Sport Physiotherapist
Kinesiologists
Concussion Management
Video Gait Analysis
Custom Bike Fits
Functional Movement Screening
Small group exercise classes
These types of learning opportunities may be available at this site:
See above
+ monthly clinic in-services
Possible Interprofessional opportunities at this site:
Kinesiologists
---
For information on pre-placement requirements and orientation please refer to the specific health authority listing, found here.
If you need to update your current site profile please send an email with the updated information.