City/Town:
Prince George
Site Address:
3333 University Way
Prince George, BC V2N 4Z9
Back to search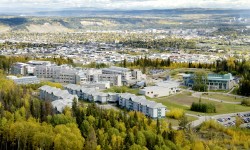 ---
Welcome message from site
We are a fun and some might say slightly crazy group of people who are up here in the north working together to make a stronger you!
Site Details
Placement Category: 
Outpatient
Facility Type:
Private Practice
Patient population description:
Mixed community case load, sports medicine, post-op surgery, WCB & ICBC patients.
Occupational Rehabilitation Program via WCB - OR1. Functional Restoration Programs via various private insurance companies.
Physiotherapist expertise on site (special interests, degrees, certificates, etc.):
Sport Med, IMS/accupuncture, manual therapy, exercise prescription, functional capacity evaluations, job site visits, drug testing, pre-employment screens.
These types of learning opportunities may be available at this site:
Mixed opportunities.
Possible Interprofessional opportunities at this site:
Collaboration with massage therapists, physiotherapists, occupational therapists, kinesiologists.
---
For information on pre-placement requirements and orientation please refer to the specific health authority listing, found here.
If you need to update your current site profile please send an email with the updated information.