Site Address:
1110 4th Avenue
Prince George, BC V2L 3J3
Are there housing possibilities identified in the community?
Please contact physio@unbc.ca for assistance in finding housing.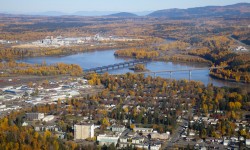 ---
Welcome message from site
Physiotherapy services were recently integrated into the primary health care services offered at Central Interior Native Health Society. CINHS strives to recognize the unique health care needs of Aboriginal People and people who live on, or close to, the street. Our goal is to provide culturally safe and pro-active health care that promotes physical, mental, emotional and spiritual harmony. Students will gain exposure to working as part of an interprofessional primary health care team and alongside students in medicine and nursing.
Site Details
Placement Category: 
Facility Type:
Patient population description:
Aboriginal People and people who live on, or close to, the street.
Physiotherapist expertise on site (special interests, degrees, certificates, etc.):
Acupuncture, Orthopedics, First Nations Health.
These types of learning opportunities may be available at this site:
Home Program, In-service training/lectures, Interprofessional Opportunities, Pain Management Program, Prevention/Wellness, Pulmonary rehab, Team Meeting/Rounds, Cultural Safety & Competence.
Possible Interprofessional opportunities at this site:
Arthritis, Burns, Cardiorespiratory conditions, Chronic Pain/Pain, Degenerative Disease, General Medical Conditions, General Neurological Conditions, Hand/Upper extremity, Mental Disability, Orthopedic/Musculoskeletal, Traumatic Brain Injury, Mental Health; Addiction.
---
For information on pre-placement requirements and orientation please refer to the specific health authority listing, found here.

If you need to update your current site profile please send an email with the updated information.