For those of you contemplating supervising a student on a clinical placement, there are always many questions. Here, you'll find some of the answers…
---
Read here about why NeuroMotion takes students and what they receive in return for their mentorship.
---
Private Practice Physiotherapist
Williams Lake Physiotherapy Clinic
Williams Lake, BC
As a clinic owner for more than 30 years; as a practicing physiotherapist for almost 40 years; as a proud UBC Graduate – I still appreciate and love my profession. I fully understand the need for ongoing learning, as well as I am able to recognize my knowledge base and experience, and where my "physio journey" has brought me.
In the last years, UBC students have brought their spark and "physio journey" into my clinic doors. Their interests, their knowledge, their insecurities, and their personalities are all so inspiring. They have given me renewed energy and inspiration to share my profession, not to mention the extra attention and care each patient gets and LOVES!
I truly applaud the UBC Faculty of Medicine – Department of Physical Therapy – they are sending "stellar" physiotherapists into the world! Each and every student is an enriching experience and I am proud to be a small part of their learning journey. I encourage fellow physio clinic owners to share in the "Student Experience."
It is so rewarding, and is also a wonderful way to continue learning and affirming what we do. It is a small way of giving back to our profession.
---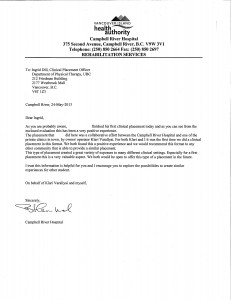 Can't take a student full-time? Wonder what sharing a student might be like? Click on the letter to read about a positive experience on placement for both our student and his two part-time preceptors!
---
Hilary Crowley
Itinerant Paediatric Physiotherapist
Hilary is activley involved with Samuha, an organization in South India. The project operates in more than 150 villages reaching over 600 people with disabilities, mostly children. It provides funding for corrective surgery, mobility equipment and orthotic and prosthetic supplies. It also offers Hilary the chance to take some of our students (among others) over on placement, to contribute to the communities with their skills.
Hilary was the recipient of the 2013 Enid Graham Award.
I've been taking students with me to India as their preceptor, since 2001. Usually I take two students but have taken as many as four. In fact I found the 4: 1 model probably the most effective. This was two OT and two PT students. They worked in trans-disciplinary teams of two and were able to learn from each other as well as collaborate together. Our project is a rural community based rehabilitation program. Our clientele is mostly paediatric but we take anyone with any kind of disability. In the early days it was nearly all polio but we have had no new cases of polio for the last 10 years so our main concerns now are early intervention for children under six years and young men with spinal cord injury. We started off providing home-based therapy but have now added an early intervention centre and a spinal cord injury unit. Once the students have been oriented to the placement and we have done a couple of visits together, I then usually alternate days between the two students or between the teams of two.
I love taking students and they bring so much energy to the project. It really is a win, win, win situation as the students learn new skills and gain confidence. The local disability workers have their batteries recharged with enthusiasm and the children and families of course benefit by more intense inputs and the prescription of equipment. I think there may be some reluctance for some therapists to become preceptors as they feel they don't have the time and they may not be able to answer all the questions. These fears can be put to rest as the students will take on partial caseloads freeing up some of the preceptor's time. The students are well-versed in problem-based learning and certainly can research the answers through their large wealth of online resources. We absorb so much knowledge and skills over the years without realising our depth of knowledge – even if we can't remember the anatomical details! There is an urgent need for preceptors, particularly in rural and remote areas, so we need to step up to the plate so that we can offer equitable access to physiotherapy throughout this province. For those who haven't tried it yet, it can be a very rewarding experience as well as being an important component of our professional responsibility.
For more information, go to: www.samuha.ca
To see an article about Hilary from the students' perspective, please see page three of our Spring 2013 Globe Newsletter.
---
Graeme Beverley
Physiotherapist
Nicola Valley General Hospital/Health Centre
Merritt, BC
Graeme took his first student in 1991, and his last in January 2012. His total student count as a Clinical Educator was 14 MPT students and 12 Rehabilitation Assistant students.
I enjoyed my time as a Clinical Educator; I thought it would be one way to give back to my profession but I found I actually got more out of it than I put in. The paperwork is always an issue in a busy department or practice but not an insurmountable one with practice. I learned that students each have a unique style of learning; that they are not cookie cutter individuals that the school churns out. It was always fun to find out what sort of learner they were and how best to stimulate them. Generally the students are intelligent inquisitive enquiring and active learners, they challenged me as I challenged them and together we learned and re-learned aspects of physical therapy. They made me look at what I do and question why I do it, is it just because I was taught that way, is there good science behind it and is there a reference for it? Over the past dozen or so students I have noticed that they are more ready to challenge old ideas and to find ways to research subjects that will change client outcomes. I think we will be well served by the future leaders of our profession as they adhere to a scientific-based practice.