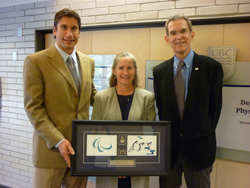 On October 27, 2010 Dr. Jack Taunton (Chief Medical Officer for the Vancouver Olympics) and Rick Celebrini (Chief Therapist for the Vancouver Olympics) presented Jayne Garland (Department of Physical Therapy) with a plaque in recognition of the Department's support of the games.
Dr. Taunton indicated he was thrilled with the significant contribution from our Department as it allowed them to succeed in their goal of putting physiotherapists in leading roles once again during the Olympics and Paralympics.  He was told by the IOC that the games held here in 2010 were 'best games ever seen.'
The Department lent over 30 treatment tables, several treadmills, lasers, electrotherapy and ultrasound units that were used in the polyclinics at every venue on over 9200 people during the winter Olympics and over 1000 people during the Paralympics.  No Games has ever before provided the types of services available in those clinics. Additionally, several of the Department's clinical faculty members participated in the health teams providing physiotherapy services to athletes, coaches and trainers during the games.